Sunday, September 16th, 2007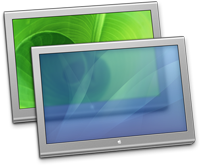 The only thing to date that I've missed from the dark ages of using Windows XP Pro is the built in Remote Desktop capability. RDP is one of the very few things I've seen come out of Redmond that actually worked beyond a satisfactory level.
Nearly three years ago my work machine was replaced with a PowerMac G5 running OS X Panther, ever since I've been looking for an equivalent solution for those occasions when I need GUI access to my desktop via the company VPN.