Thursday, May 21st, 2009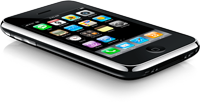 As if their outrageous system access fees and astronomical $8 caller ID charges wasn't enough. Rogers was clever enough to come up with yet another reason to hate them.
I originally bought an iPhone on July 12, 2008 with a three year term. At the time the plan was $60 (plus the multitude of miscellaneous rip-off charges) for a lousy 150 daytime (where daytime in Rogers' world ends at 9 PM, not 6 PM) minutes and a humble 400 MB of data transfer. I accepted these lousy terms, cause well, I'm Canadian. Our cellphone industry is a joke and I wanted an iPhone. What else can I say?