Friday, October 15th, 2004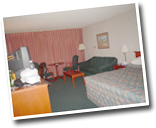 Arrived back from the Catch The Wave wireless conference in Medicine Hat put together by one of Triton's suppliers of wireless gear (Comco Technologies Inc.). It was a very well organized event, with speakers from Motorola, Allot Communications, Orthogon Systems, and more.
There was an assortment of product demonstrations as well as a Motorola training course. The conference lasted from Tuesday to Friday evening during which I stayed at the Medicine Hat Lodge. Both the event in general and the accommodations at the hotel were very enjoyable.
I had a great time meeting numerous people from various backgrounds, both technical and non-technical. Of course, and in spite of my enjoyment of the event, after three days of early mornings and late evenings it feels great to be home.