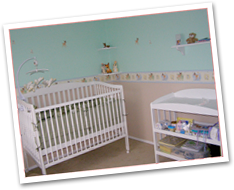 Never quit moving this whole weekend. Finally managed to dedicate the time, along with Jessie's parents to get the baby's rooms ready for the arrival.
Started at around 10:00 AM Saturday morning and did not stop until this evening…
The walls were pretty messed up, took several hours to patch and sand everything to get the wall smooth and consistent.
Once the walls were fixed up, the only logical thing to do was exterminate the brown trim. There just simply is no room for "brown" in the encyclopaedia of sane aesthetics. All the trim was repainted white to scratch that off the agenda.
Next up, the walls were all repainted a half and half two tone consisting of what I'm told is a subtle green on top, beige at the bottom and separated by a wall paper banner consisting of various characters from Disney's Bambi. Took two full coats of primer to cover up the previous dark blue and gold colours on the wall.
To finish everything off, I decided to give the electrical in the room a healthy face-lift. First off, I picked up a good set of wire strippers to prevent certain injuries and then replaced all the electrical outlets with the decora variety and installed a dimmer light switch along with a new light fixture.
After a ton of work, the results look very good, with the exception of the light fixture. For some reason only two of the three bulbs light up. I've already tested the bulbs and all is fine. If the wiring wasn't right, none of the bulbs would have worked. In addition to the one bulb not lighting, the light isn't very bright. Think I'll yank it back out, drag it back to IKEA and get something else.