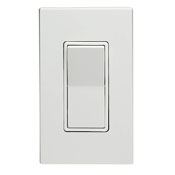 Most of the light switches in our house are the Leviton decorative types. We only had about four switches that were of the ugly, old fashioned variety.
Jessie, for some reason, had the ambition to see to it that we replace the eye-sore light switches yesterday evening. Seeing as how I've also been thinking of doing the same thing, I agreed that yesterday was the time and we picked up the appropriate number of switches and plates.
For better or worse, I've never been the type to fear household wiring. I've replaced nearly every light fixture in this house without ever bothering to flip circuit off prior. Why should this task be anything different? Although I didn't get zapped upgrading the first switch, it did short itself and tripped the breaker. My server and desktop happened to be on that same circuit. Sigh, there goes my semi-impressive 220+ day uptime. Beyond that the first wall plate went smoothly.
Next in line was the three switch wall plate in the entrance. The first time I got a good zap from it, I figured "Bah! I'll just be more careful now…" The second zap hurt a little more and was enough for me to put my stubborn foolishness aside and turn off the breaker.
The remaining work was moving a long smoothly until I got to stripping the final wire of the last switch. The box cutter I was using (in leu of a good set of wire strippers) slipped and sliced into my index finger. Jessie, disturbed by my blood gushing finger, rushed me off to Emergency. I was lucky enough that I didn't end up requiring stitches. Several hours later, they cleaned up my sliced finger, stabbed me in the arm with a tetanus shot and sent me on my way.
This is why IT folk generally shouldn't attempt to be handy-men. Thus completes another successful project!