The moment I stumbled upon Prowl (a new iPhone App that routes Growl notifications to your iPhone via Apple's push service) I knew I would find some powerful uses for it.
At Tera-Byte, several of my colleagues telecommute. In order to stay in constant communication with each other, we all use good ol' IRC. In order to be readily available and allow quick roaming from one location to an other, I use Irssi's proxy module which runs continuously within a screen session on my co-located server.
On my Desktops and iPhone I run Colloquy which connects to my Irssi proxy. Although push capabilities are planned for Colloquy, it's not ready yet. Prowl appeared to be the perfect band-aid for the situation.
My original plan was to use Prowl as intended and have Colloquy's Growl notifications directed to my iPhone. This had some limitations, most importantly it required leaving Colloquy running on my work desktop.
Fortunately the developer of Prowl provided an example perl script to push notifications to Prowl independently of Growl. I've never attempted to work with Irssi script's, but it appeared I had all the required pieces to build something clever.
I downloaded BCOW's awayproxy.pl script as a starting point and began to hack away at it. The result: prowlnotify.pl.
Change the prowluser and prowlpass lines then load this script into Irssi. While you're connected to your proxy the script will do nothing. When your last IRC client disconnects it will push all subsequent public messages containing your nick as well as private messages to your iPhone via Prowl. How sweet it is!
Of course, this post would not be complete without an obligatory screenshot. Nobody appeared to have anything to say today, so I was down and out. In my desperation I called upon cshaiku to grace me with his words of wisdom: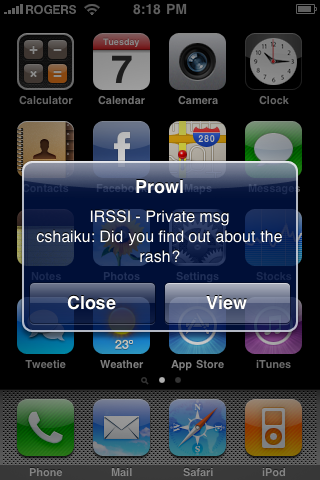 Update: I have now updated this script to use the new Prowl apikeys. Editing the script is no longer required. Simply copy your Prowl key into ~/.prowlkey.
---
Another update: Every time I try to search Google for an Irssi plugin to work with Colloquy's push notification feature instead of using Prowl I find my own page. Amusing, but not helpful!
Just found a Colloquy push script for Irssi written by Nicolas Pouillon that does exactly that.