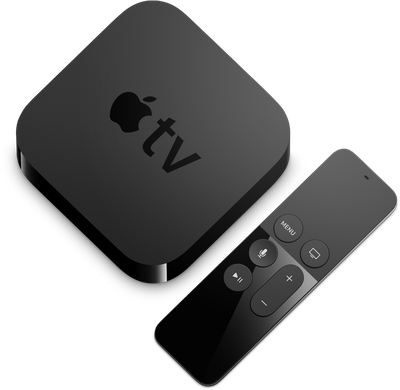 Picked up a new Apple TV (fourth generation) from the Southgate Apple Store on my way home on Friday. I actually pre-ordered fairly early Monday morning in hopes of having one dropped on my lap come Friday. My pre-order, however, is stuck in that awkward "too far along to cancel but it isn't going to be here on launch day" limbo.
Who has the willpower to wait when you can just pick one up off a shelf? Had I known they'd be that easy to get my hands on I probably wouldn't have bothered with the pre-order. I can return it when it arrives but I may keep it. The two I have are 2nd generations. They're getting pretty long in the tooth, only 720p and unsupported software wise for some time. They don't even work with YouTube anymore.
Alright, new toy! Let's play…
Out the box she comes… Uh oh, no optical out.
My setup upstairs is getting kind of aged, it includes:
* A Sharp LC-52D64U from 2008.
* My receiver is an equally old HT-SF2300.
* A Sony BDP-S550 Blu-ray player. Barely used given the PS3 serves as a better Blu-ray player. I only really own this device as it came bundled with the receiver.
* A PlayStation 3 (40 GB 2nd gen, with an upgraded 750 GB HD… because)
* A Nintendo Wii (ancient technology for playing new SMB)
* A Shaw Cable Portal gateway (haven't "cut the cord" yet)
I'm pretty much at max toy capacity with this setup. The TV only has two HDMI inputs and no ARC support. If you want surround sound then, it's going to have to connect through the HT-SF2300. The TV has an optical out but last time I tried to use it, it was crippled – as I understood it, intentionally limited to only 2 channel stereo as optical doesn't support HDCP – OMG PIRATES!
With the PS3, BDP-S550 and Shaw cable portal connected to the HT-SF2300 my only option before was to connect the Apple TV via HDMI then use an optical cable from the TV to the stereo to get my 5.1.
Now with Apple removing the optical audio that option was out. Alright, I'll sacrifice the seldom used BDP-S550 – easy! That "worked…" Almost. With the Apple TV connected through the HT-SF2300 I was getting random picture cut outs and occasional pops of static along with the audio. Now that reminds me – the 2nd generation Apple TV had this same compatibility issue. That's how it ended up being connected in the round-about way.
So now what… Connect the Apple TV direct to the LC-52D64U and use the optical out and lose 5.1? Not a great solution… but wait… It's been a LONG time since I've tried this… Could there be a firmware update? I've never updated the firmware on this or the LC-32D64U in my bedroom. It doesn't have an internet connection like the TVs the cool kids are using nowadays but apparently firmware updates can be down via a thumb drive.
Sharp's site lists two different firmware downloads:
This Firmware Update is for D64/GP3/SB54 series and related models with an existing firmware version starting with the letter "S". Please refer to your Operation Manual for instructions to check the current firmware version of your TV.

Version: S0909081
or
This Firmware Update is for D64U series and related models with an existing firmware version starting with the letter "U". Please refer to your Operation Manual for instructions to check the current firmware version of your TV.
The "identification" menu item under "Digital Setup" the "Operation Manual" refers to doesn't actually exist on mine. Maybe the firmware is so old it doesn't list off the version… So which one do I need? Alright. I'll download both to a thumb drive and see what happens. Maybe it'll be smart enough to pick the correct one.
Nope.
It whines that there's more than one copy the thumb drive. No dice. Alright… It's 50/50, let's just pick one and see what happens. What could possibly go wrong.
Nope – it still complains that there's more than one copy on the thumb drive. Why?
Well there are other files on this thumb drive that are not related to the firmware upgrade. Let's clear them all off and see what happens…
Nope. Same error.
Bah… Maybe hidden dot files from OS X on the drive?
Yes… That was it… It now unhappily complains the firmware image isn't the correct one for my TV. Alright. Must be the other one…
Nice – Software update file is detected, says the LC-52D64U, Current Version S0804171, Update Version S0909081. Start upgrade? Yes! *Click* the TV turns itself off, screen goes black for a minute… then back it comes… No update has occurred.
Took a few more iterations of that before I tried reformatting the thumb drive as FAT16. Although the TV could read the drive as FAT32 it couldn't actually install the update off of it.
Success! The TV is updated… but will it fix the previously crippled optical out? Yes… Yes it will… but guess what else?! Before even testing the optical out I notice there is now a "No Signal Off" toggle under "Power Control." Let's enable that. Immediately. When it comes to electronics I believe it's the little things that make or break a device. I've always hated… Hated with the rage of a thousand dying suns that a TV that ships with a fluorescent backlight with a life expectancy of only 10,000 hours would be dumb enough to go into a "black but backlit" state when it's not receiving a signal. A device that stupid should never leave a factory.
So many days I'd come home for work or wake up in the morning to learn that the home theatre setup was mostly shut off but the backlight has been gleefully trying to burn itself out. I became so obsessive about it that if Jessie would start turning on the TV but get distracted after the Harmony remote attempts to start everything up but leaves everything in a half started up state (How can it know? Our devices are still dumb enough to use iR). I would almost autonomously come around the corner and click off the set as I glared and shook my fist at its latest death by back-light suicide attempt.
This understandably drove her a little crazy. Not "shipping devices in the 21st century that rely on unidirectional infrared communication instead of Bluetooth control crazy" but pretty crazy, indeed! That fix alone was worth the upgrade song and dance alone.
That said – my quest is complete, I have successfully assimilated this fine new piece of tech into my existing setup. I had a few minor tweaks, I had to turn off device control so it'd stop changing the input of the TV randomly… but overall I think I'm past the worse of it.
I have 5.1 surround up and running and everything mostly works.
The device itself seems to be on the buggy side, it could really use a software update. It's a bit of a bad joke that it doesn't work with Apple's Remote apps on iOS and the watch out of the box but call that early adopter pain. I imagine updates will be out rather shortly.
I think apps are going to change everything. Sure, there are other devices with apps but not on a platform with the same ecosystem potential as iOS. I suspect this device will ultimately lead to the demise of casual gaming systems and archaic 1980s TV services provided by the likes of Shaw. All Apple needs is a really solid subscription service and we can all be freed from the much in need of disruption cable industry.