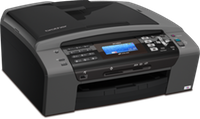 Having a new addition to the family (our new month old daughter, Allison) my wife was itching to begin printing some photos to get started on a "Baby's first year" type of scrapbook. Unfortunately our HP Officejet printer decided that it was above the task of putting ink on paper some time ago. No amount of pleading with this lousy HP printer would convince it otherwise. Given the circumstances, after some discussion, Jessie and I decided that we had little choice but to fire the Officejet and seek a replacement.
A quick Google search for the MFC-495cw prior to running out to Best Buy confirmed that people appeared to be having success with this printer under Ubuntu. Given that, the decent feature set and the low price of $99 we decided to give this printer try.
Given that the HP printer was just over two years old, we decided against another HP this time around. Although unhappy with the longevity of our existing printer, I was always quite pleased with the cross platform driver support with HP printers. I've had this Officejet working with OS X, Windows, Linux and even FreeBSD with minimal fuss.
Unfortunately, much to my disappointment, Karmic 64-bit was unable to support this printer out of the box. A quick browse around the web uncovered a page on Brother's site that did have Linux drivers but attempting to install them yielded only the following:

dpkg: error processing mfc495cwcupswrapper-1.1.2-2.i386.deb (--install):
 package architecture (i386) does not match system (amd64)

Apparently 64-bit support is not something that Brother has tackled yet. In addition their instructions and workarounds for getting up and running are pretty scattered.
Essentially, grabbing the appropriate files (you need both the lpr and cupswrapper packages) and running the following commands seems to get everything up and running:
aa-complain cupsd
mkdir /usr/share/cups/model
apt-get install ia32-libs
dpkg –force-architecture -i mfc495cwlpr-1.1.2-1.i386.deb
dpkg –force-architecture -i mfc495cwcupswrapper-1.1.2-2.i386.deb