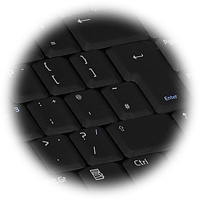 The first few times I saw it, I thought nothing of it. Nothing to worry about I thought. Someone at the assembly line for a few of these laptops must have been getting into the LSD or something. Much to my complete disgust, I discovered today that these keyboards are not few and far in between. They are becoming the norm.
Walking around Best Buy today, almost every single laptop computer on sale, if not all of them are using these so called 'bi-lingual' keyboards. Now I have nothing against an optional SKU for those that have a use for it, but you can have my US layout keyboard when you pry it from my cold dead fingers.
As a system administrator and software developer, who types at speeds in excess of 100 WPM, I get very offended when characters are in the wrong place. My slash, tilde and pipe keys belong where they are, damnit!
Sorry, I didn't spend my whole life learning how to type to have some idiot move my keys around. Now I don't know if I'm in the minority here, but I would assume anyone that knows how to type and actually has a use for non-alphanumeric keys is with me on this one. I say, let's find the lunatic that came up with this brain-damaged idea and run him out of our country!
In the mean time, I think my current Sony laptop, manufactured before this insanity started, will be the last laptop computer I buy from any Canadian retailer.