IPv6
From The Incoherency.Net Wiki
Address Space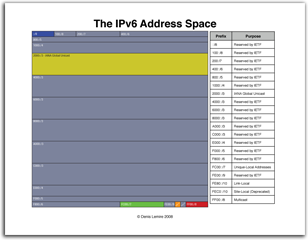 Allocation and Assignments
Minimum direct allocation is currently /32.
ISP assignments are as follows:
/64 when it is known that one and only one subnet is needed.
/56 for small sites, those expected to need only a few subnets over the next 5 years.
/48 for larger sites
Addresses Space Size
340,282,366,920,938,463,463,374,607,431,768,211,456 unique IPs
42,535,295,865,117,307,932,921,825,928,971,026,432 IPs in 2000::/3 (1/8th of total address space)
1,208,925,819,614,629,174,706,176 IPs in a /48
536,870,912 /32 prefixes within 2000::/3
65,536 /48 prefixes with a /32
65,536 /64 subnets within a /48
35,184,372,088,832 /48 prefixes within 2000::/3
8,192 IPv6 /48 prefixes for every IPv4 address in 2000::/3 alone.
18,446,744,073,709,551,616 IPs within a /64 subnet
Special Prefixes
 ::/8

 ::/128 - Unspecified
 ::1/128 - loopback (IPv4 127/8 equivalent)
 ::ffff:0:0/96 - IPv4 mapped addresses

2000::/3 - IANA Global Unicast

2001::/32 - Teredo (RFC-4380)
2001:10::/28 - Orchid (RFC-4843)
2002::/16 - 6to4

FC00::/7 - unique local addresses

FC00::/8 is to be managed by a so-called "ULA-Central" for assigned /48s. As of 9-2007, this body has yet to be formed.
FD00::/8 is allocated by appending a randomly-generated 40-bit string, to derive a valid /48. RFC4193 offers a suggestion on how to do the random generation, to try to guarantee a minimum-quality result if the user does not have access to a good source of random numbers.

FE80::/10 - link-local addresses (169.254/16 equivalent)
FECO::/10 - site-local (deprecated)
FF00::/8 - multicast
The remaining prefixes are all reserved for future Unicast allocations.
Multicast Addresses
Multicast addresses exist within the 'FF00::/8 prefix.
FF02::1 - all v6 hosts on local subnet (IPv4 equivalent 224.0.0.1)
FF02::2 - all v6 routers on local subnet (IPv4 equivalent 224.0.0.2)
Protocol Translation Mechanisms
faithd can be used to translate on a per service basis.
ptrtd is a similar and better solution, but only appears to run on Linux at this time.
NAT-PT is also an option but it has been deprecated.
Using one of the above, totd is still required to translate DNS.
MAC to EUI64
A MAC address is 48 bit wide, but we need a 64bit host ID in EUI64 format. The transformation is actually quite easy:
take the MAC of the network device (eg. 00:e0:81:2e:b6:d1)
flip bit 2 of the first byte (02:e0:81:2e:b6:d1)
insert FFFE in the middle (02:e0:81:FF:FE:2e:b6:d1)
combine with the network prefix into an IPv6 address (fe80::2e0:81FF:FE2e:b6d1)
Useful or Interesting Links
History
| Date | Relevance |
| --- | --- |
| Mar 1996 | 6bone started |
| Jan 1, 2004 | 6bone prefix allocations halted. |
| Jul 20, 2004 | Experimented with Freenet6 and Hurricane Electric tunnels |
| Jun 6, 2006 | 6bone prefix phased out (3FFE::/16) |
| Oct 15, 2007 | IPv6 6to4 setup |
| Dec 17, 2007 | Tera-Byte prefix (2610:78:ad::/48) |
| Feb 4, 2008 | IPv6 records added to DNS root |
| July 9, 2008 | GoDaddy adds support for IPv6 glue for .com/.net TLDs |
| Mar 12, 2008 | Google Accessible via IPv6! |
| Jan 19, 2009 | Added IPv6 glue for my name servers (inferno,frosty) |
| Feb 3, 2011 | Final five IANA /8 blocks distributed to regional registries. |
| Feb 7, 2011 | ThinkTel prefix (2610:1e8:800:100::/56) |
| June 2, 2011 | New cable modem is DOCSIS 3, theoretically IPv6 ready. |
| June 8, 2011 | World IPv6 day |
| June 6, 2012 | World IPv6 Launch |
| April 23, 2014 | ARIN Enters Phase Four of the IPv4 Countdown Plan - Final /8 |
| Sep 24, 2015 | ARIN IPv4 space is exhausted. Rejoice! |
| Feb 8, 2016 | The long, long wait is over. My home has native IPv6 via Telus! |
| Jan 31, 2017 | I'll get my own damn prefix (2602:ff0d::/36), with blackjack and hookers! |