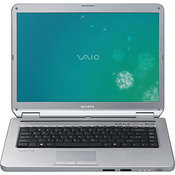 It all started yesterday during my regular routine of discarding my wife, Jessie's, newly delivered fliers into the recycling bin below my mailbox. This time, I happened to open up the bundle of fliers and caught a glimpse of a Sony Vaio NR280E/S notebook going for only $699. I've always thought the Sony line of notebooks were quite aesthetically pleasing, though rather pricey. At this price point however it seemed like an attractive proposition.
I rolled up the fliers and placed them back in the mailbox to figure out later. The following morning when Jessie fetched her fliers (probably somewhat surprised that she actually had some for once) I mentioned the attractive looking Vaio in the Best Buy flier. After brief discussion, I pulled up further specifications on the machine, thus revealing that all the key components (wireless, video, etc) were Intel based. In addition, the price on the web site was actually only $599! Given Intel's above average openness in specifications and open source code contributions, these components just made the machine even more attractive.
After further discussion, she told me to go and buy it if I wanted it. What kind of a poor husband would I be if I argued with my wife? It was now my duty to acquire this machine. Gleefully, I took the machine home, plugged it in and began to correct its one major flaw… The hard drive appeared to have some strange data embedded in it causing severe performance issues and limiting the machines usefulness. After some research on-line I determined this mysterious data was actually intended to be a commercial product. Apparently its developed by a shoddy corporation operating out of Redmond and was known as Microsoft Windows Vista.
I was surprise that a machine would leave a reputable organization like Sony's manufacturing facilities in such condition, but remaining calm I figured there would have to be a recovery disc to restore the machine into a usable state. Much to my surprise, no such disc was in the package! Fortunately a company called Canonical had a freely available recovery CD called Ubuntu Hardy Heron Beta 1. Internet folk-lore has it said discs have been used to recovery many recent computers purchased in a similar state.
It worked! This machine is now running great! I'm sure it will serve me well for many years to come as my new Ubuntu machine! Woohoo!
Given my excitement of today's acquisition, I felt compelled to contact one of very few friends geeky enough to appreciate my successful operation. Lo and behold, apon hearing of my tales of operation system purgatory, Josh decided this endeavor would be an excellent way for him to dispose of $599 as well.